Mprinti Drive electronics for Kyocera KJ4A and Kyocera KJ4B inkjet print heads
KJ4A/KJ4B
The Mprinti electronic boards developed by us by order of

mprint GmbH, Baiersbronn, Germany drive

Kyocera KJ4A-GD06AHG-STDC/N and Kyocera KJ4B-HD06MHG-STDV high-performance print heads with all available speed and features of the heads.
Basic concept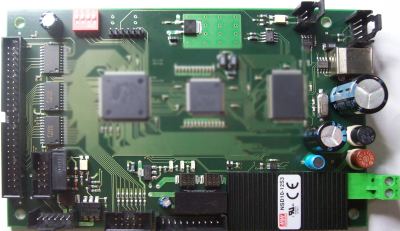 One Mprinti board is neccessary per KJ4A/KJ4B print head. Every Mprinti board is connected with a PC using the USB 2.0 bus.
The Mprinti board contains all the required functionality including temperatur regulation, serial communication with the print head, encoder interface and 3.3Volt DC/DC power supply.
The board needs to be machanically close to the head.
Special features
Data transmission can be either

2 Bit / Nozzle (3 selectebale drop sizes from the 4 drop sizes offered by the head),
2.33 Bit / Nozzle (All 4 drop sizes offered by the head with the standard waveform)
or 2.66 Bit / Nozzle (5th drop sizes depending on special waveforms).

Up to 30 kHz fire rate (KJ4B Heads only).
Supports up to 20 print heads per PC (depending on print speed), an unlimited number when using distributed software.
Heating temperature controllable by the PC. Current Head temperature readable by PC.
Automatic emergency printing shutdown on Junction TEMP signal from head. Maximum Junction temperature (Vref voltage) configurable by the PC.
Printing variable data.
Automatic generation of Fire 6 signals.
Triggering of print start on external signal (24V or 5V) or encoder position.
4-Bit DIP switch with application-defined meaning, for example to configure head position.
Opto-coupler output for trigger signal, fire signal output or PC-Controlable for PLC synchronization.
Single 26V power supply.
FIFO memory sufficient for about 1 Meter material at 600DPI.
Access to print head usage counter, serial number and waveform upload.
7 KByte EEPROM per Mprinti board for configuration data.
Engeneered and made in Germany
Requirements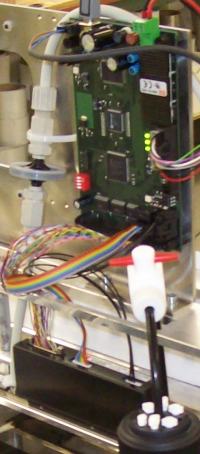 | | |
| --- | --- |
| Operating System | Windows XP (32/64 Bit), Windows Vista (32 Bit), Linux-i386. (Others like MacOS X upon request) |
| Encoder | Wachendorff WDG58B or electronically compatible |
| Power Supply | 26V +/- 0.5V 3A |
| Maximum Number of heads | 16 Print heads per PC, unlimited when using several slave PCs |
| Cable length | Currently 20cm Cables to the print head |
| Board size | 160mm x 100mm x 29 mm |
| Weight | 130gr without cables |
Firmware
The Mprinti boards are shipped with a set of firmware files to run on it's microcontrollers and FPGAs, a .DLL/.SO API to supply an easy-to-use application interface and driver files for Windows and Linux. Custom application development can be in C++ or C.
Firmware updates are downloaded at runtime from the PC.
Additional application software solutions are available that are based on this firmware:
Available Software solutions
lp2000i is the current software solution of mprint GmbH for endless printing of labels with variable data and other single-pass applications. This software can drive up to 16 heads, 8 heads at 400mm/second or 4 heads at 800mm/second with a single PC. It can be used in complex triggering scenarios like printing on pre-printed material and printing on 3D-objects. It performs raster image processing and contains a graphical editor for variable data. This software also contains a PLC interface for purging, end of material dectection and so on (if required).
DuaSoft MatchPrint II for printing of patterns on huge areas with multi-path printing. This software can run distributed on several PCs to drive up to 16 KJ4A/KJ4B heads with high printing quality.
testprint is part of the firmware shipped with the board. It is a C++ example sourcecode based on the API that drives a single print head with a given graylevel .BMP bitmap file. It allows an experienced software engeneer to develop new software solutions based on that API.
Performance considerations
Typical USB controllers reach about 42 MByte/s data transfer rate per USB controller when distributing the data transfered on more than one USB device.
Printing in a continuous application with 400mm/second equals 7.2 MByte/Second when printing with all 4 drop sizes (+ No drop) as supported by the print head. This means 5 print heads can be driven per USB 2.0 controller and you may add more than one additional controller to a windows or linux PC to support higher data transfer rates.
In a non-continuous printing application (Multi-Path) the time when the carriage does not move full speed can be used to fill up the FIFOs of the Mprinti boards. The boards can trigger printing when the encoder signals reaches a certian position and automatically stop printing when a complete set of lines has been printed, without clearing the FIFO memory.
The Mprinti board optionally offer data transfers with 5 levels (white + 4 drop sizes) encoding 7 bit for 3 nozzles, thus requiring only 2.333 bit/nozzle instead of extending the data stream to 3 bit or even 4 bit per nozzles as simpler solutions would do. This allows to use the full printing quality of the KJ4A/KJ4B print head without raising the data transfer too much. The distinction between encoding Fire 6 and VDD2 for white pixels can be done on the board and does not need to be encoded by the PC.
At maximum print speed (845 mm/s), you need one USB 2.0 Host controller for every 2 print heads. Configurations with 4 host controllers and 8 print heads at maximum print speed are in use.
Success stories
Mprinti boards have been used successfully to implement a 845 mm/second label printing process as a single-path process using the lp2000i software with good printing quality. Contact

mprint GmbH, Baiersbronn, Germany for samples.
Another company has implemented a high-speed multi-path printer with up to 24 Mprinti boards using the Duasoft application.
Prices and avialablility
These boards are only available from

mprint GmbH, Baiersbronn, Germany. Prices are individually and depend on the application, the expected number of boards sold, the software used and the amount of engeneering support required.
The boards cannot be offered for printing on textiles.
Users of this technology must document

mprint GmbH as the source of the technology in the machine documentation and must allow for the Firmware to display the

mprint GmbH company logo for a few seconds during startup.
Small amounts of boards (for development) can be shipped within a few days. Bigger amounts need up to 90 days for production.
Engeneering
Our team is able to modify hardware, firmware and application software for specific needs at reasonable prices.